From Main Street to Wall Street, events of the past few years have sparked a culture shift that cannot – and should not – be ignored. In the wake of the Black Lives Matter, #MeToo and Stop AAPI Hate movements, companies have begun to make workplace diversity a priority. According to Glassdoor, more than 3 out of 4 job seekers and employees (76%) report that a diverse workforce is an important factor when evaluating companies and job offers.
Many companies are starting to put real effort into increasing workplace diversity, but there's still a long way to go. Fifty-two percent of the S&P 500 now have a Chief Diversity Officer, and there has been a 113% increase in execs with DEI titles over the last 5 years. Organizations taking the lead in this vital evolution are finding that a more representative workforce not only increases and improves innovation, it also benefits their bottom line.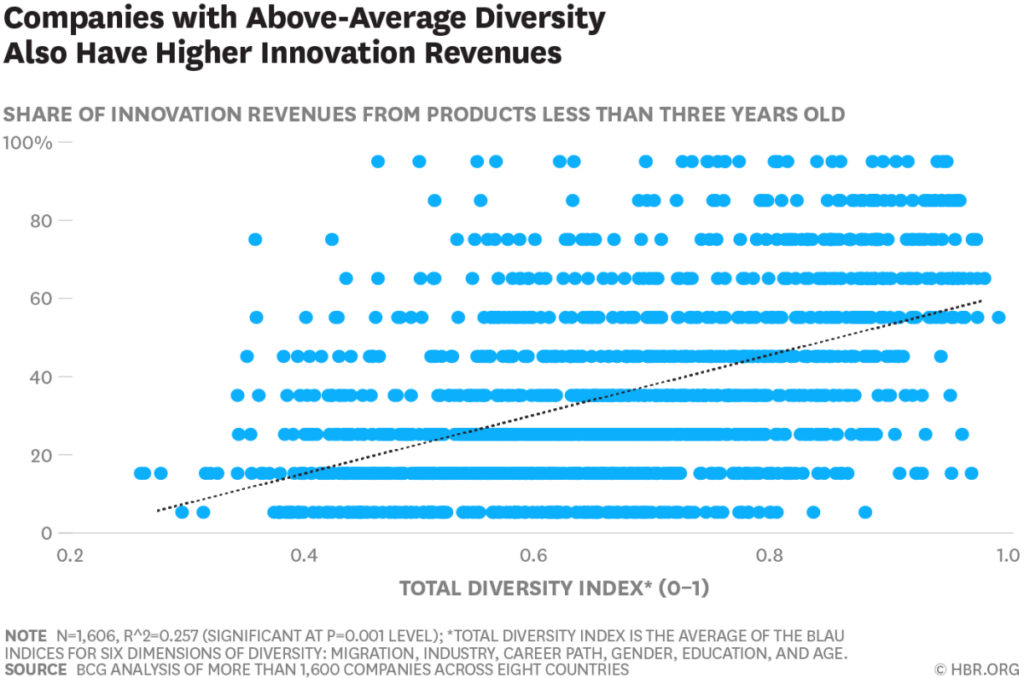 Whether one is motivated by increased productivity, employee retention, greater societal good – or all of the above –  here are a few key points we have seen across the most successful DEI campaigns.
Make DEI a company-wide movement: It's important to make DEI a collective effort across the organization so that everyone feels a sense of ownership in advancing this work. We often see companies just hand off DEI to the HR department and expect results. The hiring managers play a vital role in defining standards and qualifications, so engage them in making equal opportunity a strategic priority. Finally, on the road to establishing new benchmarks, don't overlook one of your company's most valuable assets: your employees. Surveys are an effective tool when assessing existing cultural gaps as well as growth opportunities. DEI must be a company wide effort.
Rethink hiring and talent processes:  When evaluating talent, there may be underlying issues in the process that need to be addressed. As companies take stock of their internal DEI metrics, they may find only a few simple tweaks are in order. Or, as in the case of The New York Times: sweeping changes may be put into place. Just last year, when the paper officially embraced diversity as part of its journalistic mission, management pledged to consider a diverse range of candidates for each position before making any job offers. Moreover, setting up clear rubrics and employing a consistent, structured approach to the interview process can go a long way to maximizing fairness. Preparation and consistency, helped along by a standard interview guide, can help minimize even the most unconscious bias.
Update role requirements: It's time to take a fresh look at job listings to search for exclusionary language, like gender-biased terms, jargon and other discriminatory buzzwords. Make your opportunities more inclusive. Another way to avoid limiting the candidate pool is by reconsidering hard and fast rules around education prerequisites and experience requirements. Remember too, that some differences can go unseen.  Implementing a more textured, holistic approach to diversity can go a long way towards accounting for other URM groups that may otherwise get overlooked.
Set specific DEI goals: Monumental change doesn't happen overnight, but each step in the right direction will get you closer to a more equitable workforce. Start by designating short term and intermediate targets that are realistic and achievable. For example, commit to considering a minimum number of URM candidates for any given position before making a hire.Then, move on to bigger goals like changing a process. For example, Snagajob took the step of rewriting job postings to remove gendered language and other exclusionary bias. Over at Airbnb, they're committed to increasing under-represented groups in their US workforce from 12% to 20% by the end of 2025. Salesforce has famously led the way in closing the pay gap between men and women, changing the overall state of equity of their organization.
While accessing and improving our own workforce, both internally and in our portfolio companies, F-Prime has had the opportunity to learn about many different helpful tools to help with DEI efforts. One tool that consistently stood out was Mathison. Mathison provided an end-to-end platform to help companies build their diversity action plan, mobilize their teams, source underrepresented candidates, and measure impact company-wide.
When we learned that the founders, Dave and Arthur, were trying to create a more diverse and inclusive culture throughout all organizations and listened to how excited their customers were about using Mathison, we were excited to get involved. They literally wrote the book on DEI hiring. We couldn't be prouder to lead Mathison's Series A alongside Bain Capital Ventures, SemperVirens, ANIMO Ventures, GTM Fund, Gaingels, and JP Morgan. If you're ready to unlock the full potential of organizations worldwide, join us in this journey by checking out mathison.io.
While accessing and improving our own workforce, both internally and in our portfolio companies, F-Prime has had the opportunity to learn about many different helpful tools to help with DEI efforts.