Today, there are more than 310,000 US property managers spending over 45% of their time hearing about broken toilets, calling technicians to fix chipped walls, and scheduling plumbers to unclog drains – day-to-day maintenance. Maintenance is one of the most cumbersome and tedious parts of their jobs, and Latchel aims to solve this pain point by taking over all the property management's maintenance tasks and more. We are thrilled to be partnering with Ethan Lieber, Will Gordon, and Jullian Chavez for their $16.7M Series A as they create the new operating system for property management. 
How Latchel Saves Property Managers and Owners Over $1,850/unit a Year 
Latchel takes over all aspects of a property maintenance function. Latchel is free for property managers and charges tenants $15-18/month, similar to other utility bills. When tenants have an issue, they message Latchel, which tries to fix the issue initially over video. About 40% of maintenance issues can be solved by video without hiring a costly service professional – saving property owners 1.2 visits per tenant per year. For maintenance requests that are not resolved over video, a freelance technician is dispatched to the unit to fix the problem. A 24-hour help center is available online, over the phone, or via text, and both the tenant and property manager are able to track the progress of requests via customized dashboards. Once the job is completed, Latchel invoices the property manager and facilitates payments to the technician. The whole process saves property managers many hours a week in headache and coordination.
Tenant Maintenance Fulfillment Process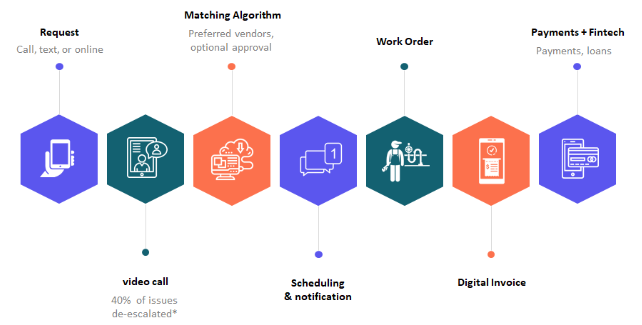 Why We Invested in Latchel
Real estate has lagged in digitization relative to other sectors, and F-Prime has been investing in all areas of proptech ranging from digital mortgage closing with SnapDocs, short-term stays with Avantstay and homeownership investment with Unison. As we surveyed the industry, we noticed the arduous process tenants and property managers go through when dealing with routine maintenance requests and once we dug into the numbers, it was immediately apparent how much value Latchel provides to property managers. On average, they see a 20% increase in revenue by switching to Latchel. Latchel is therefore able to close hefty five-figure deals that we traditionally only see with enterprise SaaS companies, while helping properties achieve 4.8/5 resident reviews. Per our analysis, helping property managers outsource maintenance is a $4B+ opportunity in the U.S.
We believe Latchel has the opportunity to become the central operating system for property management. In the coming months, we see the opportunity to layer on additional fintech and concierge products, like lending and home services, to give an even better experience to tenants, landlords, and vendors.
As part of the round, John Lin and Abdul Abdirahman will be joining the Board and John Raguin, Venture Partner and former CEO of Guidewire, will also be joining as an advisor. Thank you for welcoming F-Prime Capital as a partner in your journey!