Fintech was on fire in 2021. A record 77 fintech companies went public, which included eight of the largest 10 exits in history.
However, in 2022 public investors re-appraised many fintech companies, prioritizing capital efficiency and shifting valuation multiples to align more closely with traditional financial services businesses. The F-Prime Fintech Index declined 72% over the course of 2022. Rising interest rates and macroeconomic uncertainty added to the significant valuation declines with certain fintech verticals seeing larger declines. Despite the drop in valuations, fintech disruptors grew rapidly, continued to capture market share, and give venture investors many reasons for long-term optimism.
New Logos in the Fintech Index
The average company in the Fintech Index lost 56% of its value in 2022. Companies that listed between 2020 and 2022 — two thirds of the companies in the Fintech Index — fared even worse, falling 65%. Because the IPO market came to a halt in 2022, there were few additions to the Index. Of the six new companies added to the Index last year, only Dave went public in 2022. The others — AvidXchange, Bakkt, Expensify, NerdWallet, and Nubank — all went public in Q4 of 2021 and, per our methodology, required 90 days to "season" before we added them to the Index.
We also saw three acquisitions of Fintech Index companies in 2022. Metromile was acquired by Lemonade, Vista Equity Partners took Avalara private, and EQT Private Equity did the same with Billtrust. Meanwhile, Katapult, Root Insurance, and Sezzle failed to meet the criteria to remain on the Fintech Index, and were therefore removed at the end of 2022.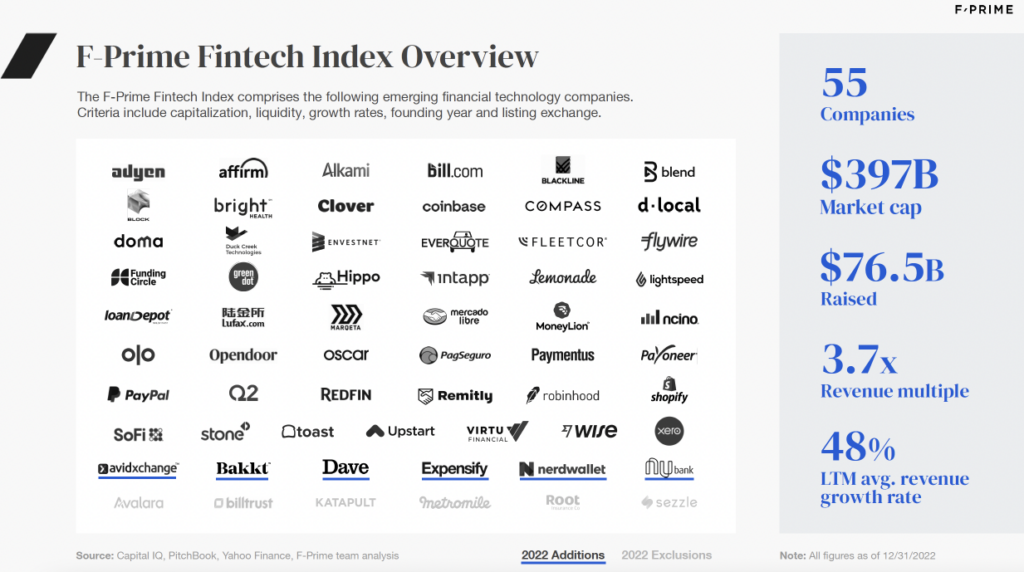 Variation Across Verticals
While nearly all tech and fintech stocks fell in 2022, the Fintech Index reveals meaningful differences across fintech verticals. We saw the steepest valuation declines in proptech, insurance, lending, and wealth/asset management — verticals that are especially exposed to rising interest rates and thin liquidity markets. Unsurprisingly, B2B fintech and payment companies saw less than average declines.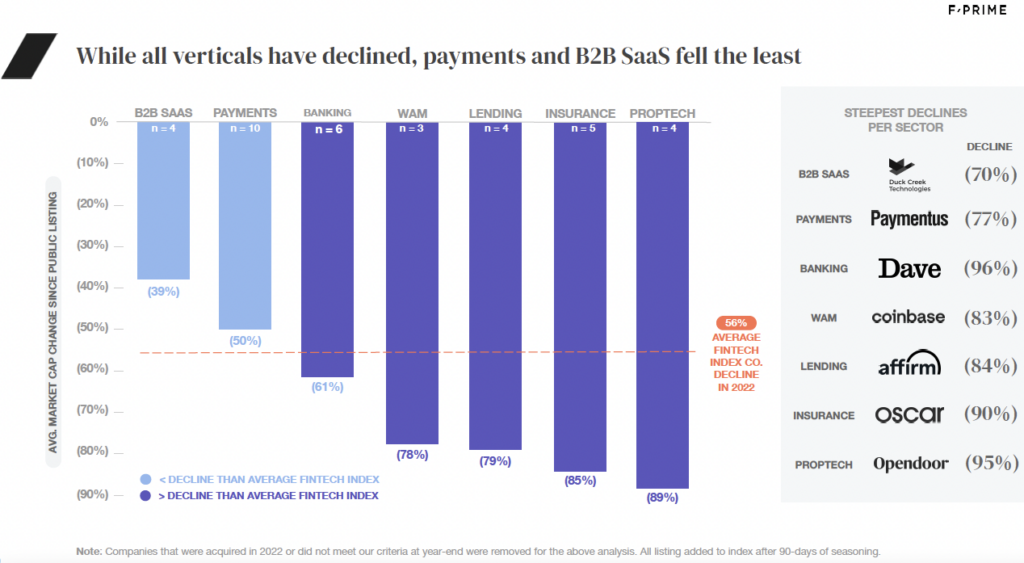 Fintech Index companies that went public in or after 2020 exited at a peak market, leaving them vulnerable to significant losses in the next downturn. Companies like Coinbase saw a 90% decline in market cap over the course of 2022.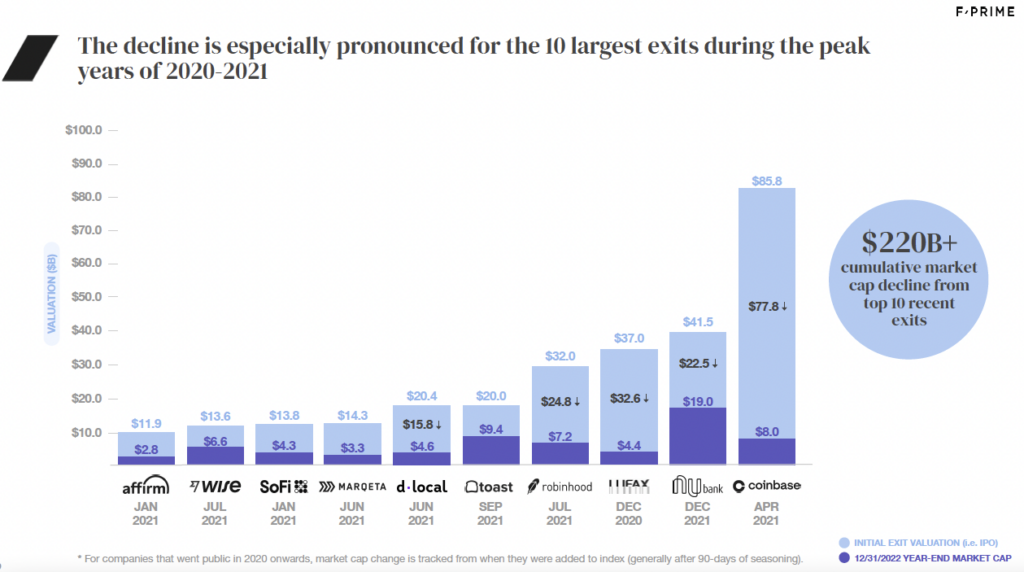 Some of those corrections appear to revert company valuations to historical norms. Others are especially large, with multiples significantly below historical averages as public markets begin to distinguish tech-enabled versions of existing financial institutions from truly disruptive approaches to financial services.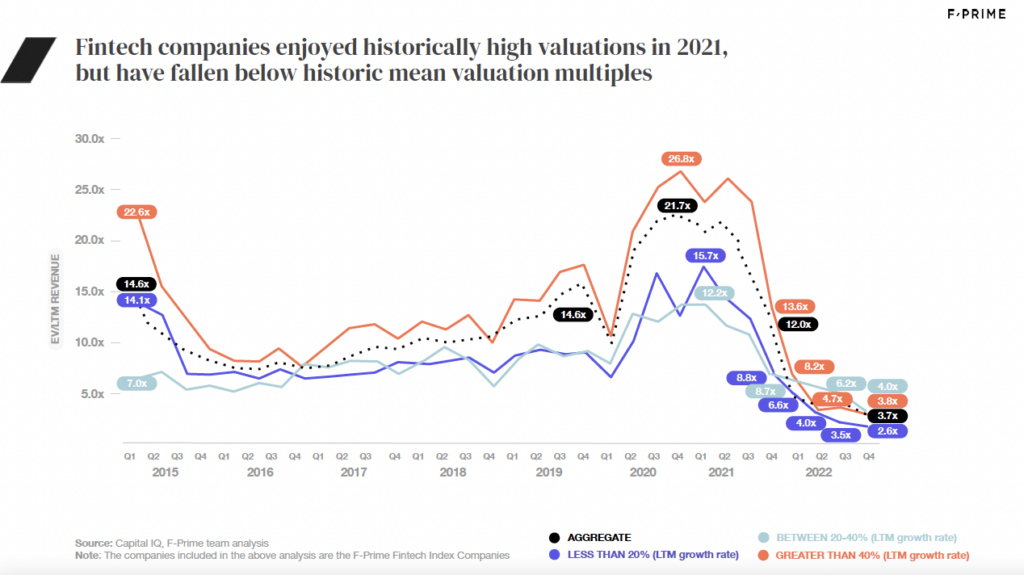 New Metrics to Capture a Diverse Sector
Compared to SaaS companies, fintech business models vary greatly across verticals. Thus, we need to evaluate the diverse set of companies within each fintech vertical distinctively. In response, we are adding new vertical specific metrics to the Fintech Index so they may serve as a quick reference for founders, investors and others to benchmark against recently listed public disruptors and incumbents in the financial services sector.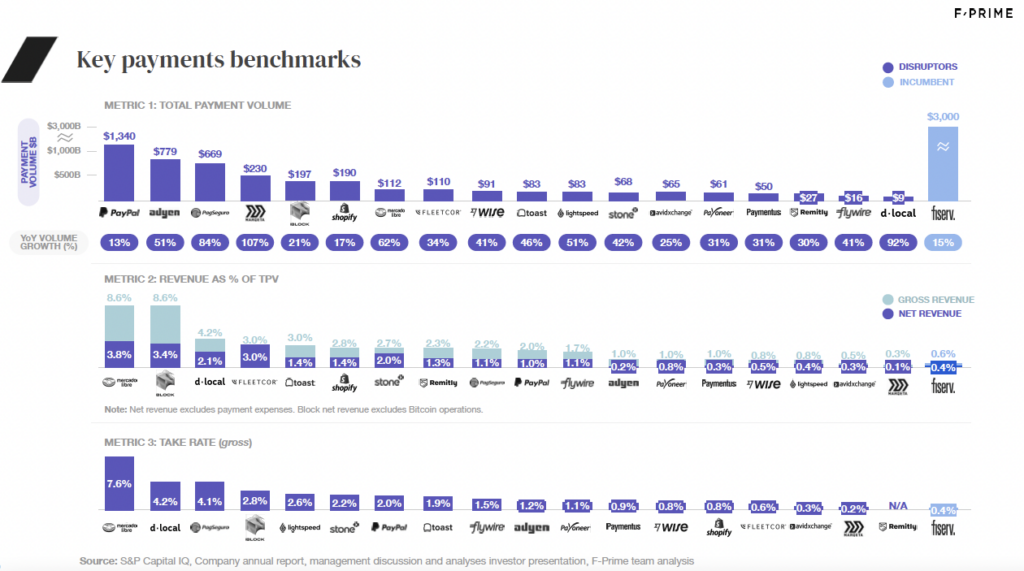 In its current state, the Fintech Index can highlight top-performing companies in each category, however over the coming months we will roll out dynamic charts showcasing key benchmarks across fintech verticals.
The Year Ahead
We're tracking a number of disruptive trends across all fintech verticals, however below are some of the areas we are particularly excited about in 2023: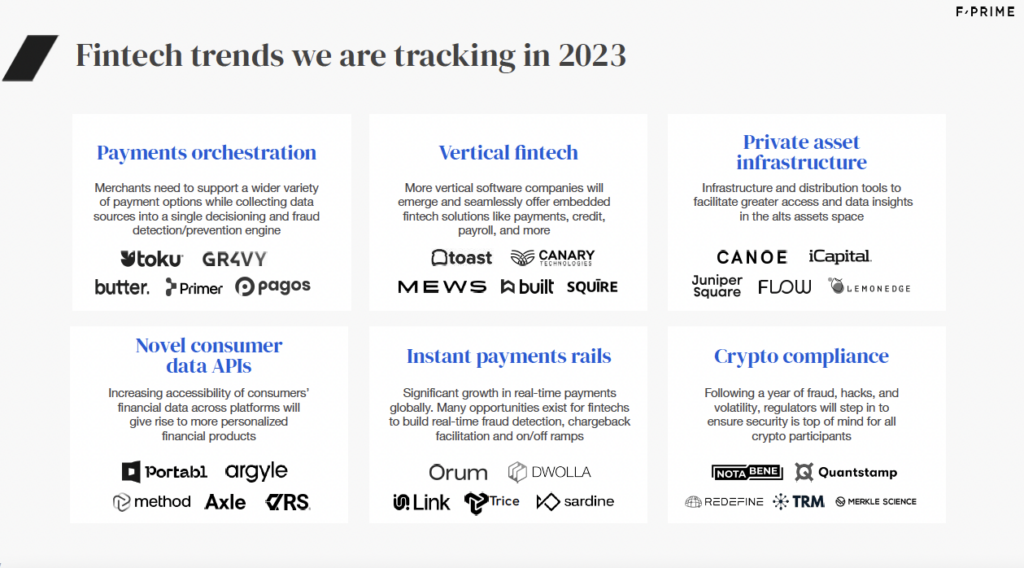 While 2022 was a tough year for fintech, we remain steadfast in our conviction that this is a great category to build and invest in. For one, fintechs are still in the early innings of capturing financial services revenue share — right now, fintech companies have captured approximately five percent of total financial services industry revenue.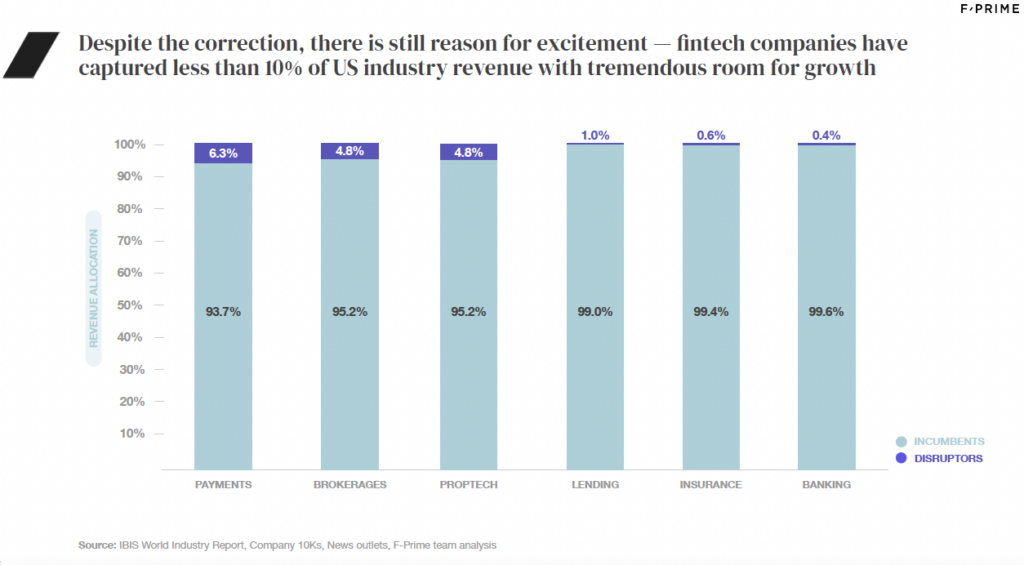 Meanwhile, fintech continues to eat the world as the embedding of fintech products accelerates across new verticals. As early backers of Toast and Flywire, we saw this first-hand in the restaurant industry and higher education. We see this in other verticals where disruptors like Shopify, ServiceTitan, Procore, Mindbody, and others are doing the same. Embedded fintech not only centralizes and improves the experience for users — it also increases TAM and makes previously overlooked verticals more interesting as ARPU/ACVs can increase 2–5x.
Finally, disruptors are both growing the pie and taking market share from incumbents. In the first three quarters of 2022, Fintech Index companies grew revenue 45%+ on average, and added $19 billion in revenue collectively to the Index. Furthermore, the vast majority of that growth was organic, as no new companies were added to the Index after Q1 2022.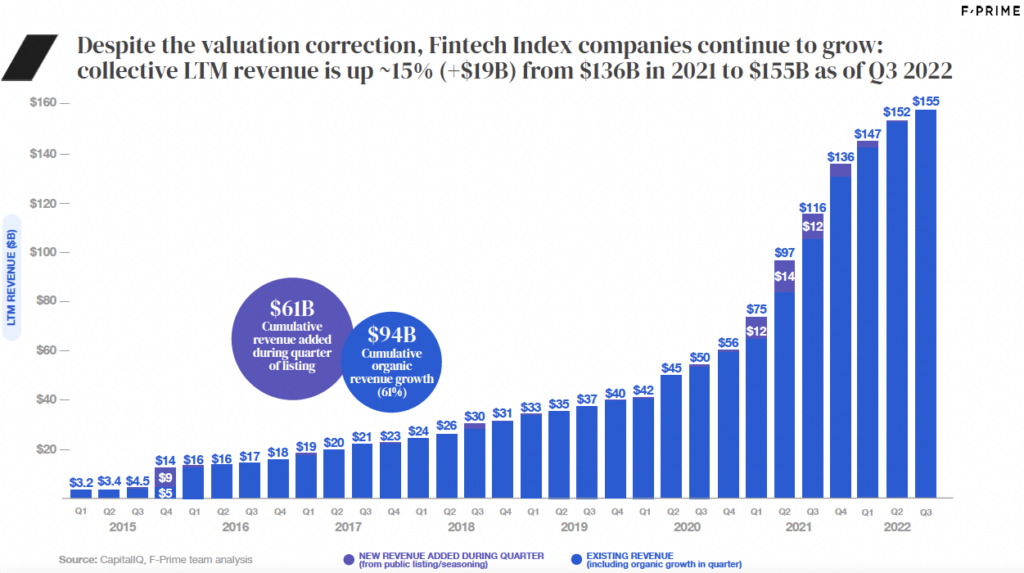 We also expect M&A to pick up dramatically in 2023 and especially in 2024, as buyers and sellers find valuation alignment. As mentioned earlier, private equity firms have increased their acquisitions of Fintech Index companies and we expect more buyout transactions — for example, DuckCreek is due to be acquired by Vista Equity Partners in 2023. We will remove the company from the Index once the transaction closes, as we did with the three aforementioned acquisitions in 2022.
Beyond that, we encourage you to dive into the report and join us on Thursday March 9th for an online discussion of its findings with the F-Prime team. What do you think of our conclusions? How excited are you for those new dynamic metrics to drop? And what are you most looking forward to in fintech-land in 2023? Drop us a line on Twitter and LinkedIn — and if you're building or investing in fintech, let's connect!
While 2022 was a tough year for fintech, we remain steadfast in our conviction that this is a great category to build and invest in.