ARTBIO is developing ARTs that have the potential to unlock a new generation of more effective and safer precision oncology medicines.
Radiopharmaceutical Landscape: Seeking a best-in-class isotope
Radioligand therapies are a category of innovative targeted cancer medicines. These drugs home specifically to tumors to deliver a potent radioactive isotope warhead, causing catastrophic DNA damage and cancer cell death. While the radioligand landscape is currently dominated by beta-emitting isotopes, the alpha emitters comprising ARTs are expected to offer a superior therapeutic index, because they can directly cause double-strand DNA breaks, which are lethal to cancer cells, and, due to a shorter emission distance, alphas can kill tumor cells locally while sparing nearby healthy tissue.
Early clinical data with a warhead called actinium-225 (Ac-225) supports the potential for ARTs to be more effective than beta emitters. However, the supply of Ac-225 has been limited creating a challenge for deploying ARTs at scale. Ac-225 also has a relatively long half-life, facilitating distribution but potentially limiting maximal therapeutic efficacy. There is a need for better isotopes to make ARTs that will enable transformative efficacy and a stable treatment supply for reliably reaching patients.
>> Read the Frontiers in Medicine article 'Commercial and business aspects of alpha radioligand therapeutics' to learn more about the research conducted on targeted alpha particle therapy in oncology.
The Origin Story: Capitalizing on a foundational discovery
In observing the many complexities in the field (including recent supply chain challenges faced by pharma), F-Prime Partner Alex Pasteur, Ph.D., and Senior Associate, Martin Taylor, Ph.D., searched for a viable solution that would fully unlock the tremendous potential of ARTs. They established relationships with world-leading experts Roy Larsen, Ph.D., and Øyvind Bruland, MD, based in Oslo, Norway, and became interested in an innovative approach they were developing for ARTs.
"ARTBIO's roots trace back to a remarkable scientific discovery of the 20th century by Marie Curie that radium can destroy tumors, and the early dissemination of that discovery to Norway," said Alex Pasteur. "We have tapped into long-established expertise at the Radium Hospital in Oslo for some of the foundational technology in ARTBIO."
Roy and Øyvind are serial entrepreneurs in the radiopharmaceuticals field. They previously co-founded Algeta (acquired by Bayer) and invented Xofigo®, a drug for prostate cancer patients based on radium and currently the only alpha-emitter based medicine on the market. Alongside other companies they founded, their expertise and success has established Oslo as a hub for innovation in radiopharmaceuticals.
"F-Prime's global presence, including our office in London, enabled us to identify radiopharmaceuticals as an area of excellence in Europe, where we saw a thriving ecosystem with an exceptional degree of innovation, ripe for further investment," said Martin Taylor.
Why We Invested: ARTBIO's mission to unlock the full therapeutic potential of ARTs with an optimized warhead platform
Roy and Øyvind had an intriguing idea, derived from their experience with radium. Recognizing the clinical and commercial importance of isotope choice and abundance, they turned to lead-212 (Pb-212), a decay product of radium.
Pb-212 solves many of the challenges of ARTs:
 • It has an abundant raw material supply from existing stockpiles which avoids the expensive supply chains of other isotopes by recycling natural -byproducts of other industries.
 • It has a short half-life, enabling maximal radiation exposure in tumors, while sparing healthy tissue and reducing post-treatment patient isolation time.
 • It also has limited industrial competition, and can be directly imaged using existing medical systems.
Working closely with the founders and Anders Tuv from Radforsk, a local investor affiliated with the Radium Hospital who also played a key role in establishing the company's Norwegian operations, F-Prime led an effort to design and develop a robust Pb-212 manufacturing technology platform. ARTBIO was born.
"The true value that ARTBIO brings to the ART landscape lies in aligning radionuclide half-life to drug half-life, rather than aligning radionuclide half-life to centralized manufacturing constraints," said Emanuele Ostuni, CEO of ARTBIO. "This mindset has allowed us to choose what we believe to be the most patient-centric isotope available for clinical applications. F-Prime has been an exceptional partner on this journey, with a sleeves-rolled-up approach to company building which has significantly enabled ARTBIO's trajectory."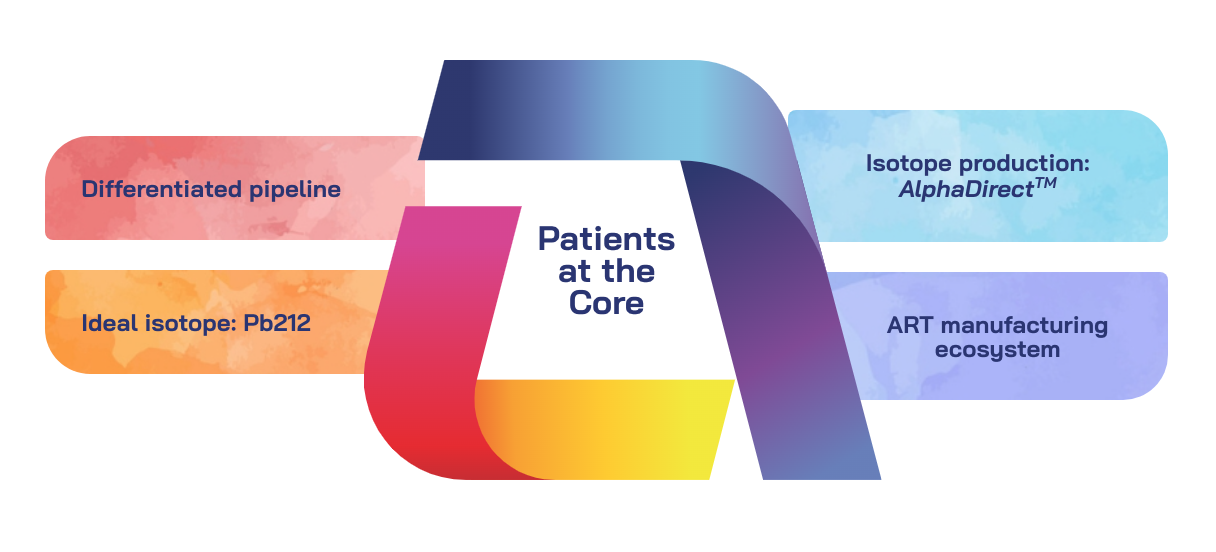 Our Focus on Company Creations: The art of curating a smarter strategy, at every turn
At F-Prime, it's our privilege to invest in high-conviction entrepreneurs such as Emanuele, Roy, and Øyvind. We focus our energy on early company incubation, financing expertise, and industry relationships to help establish our companies on a strong trajectory.
At ARTBIO's earliest stage, we were pleased to provide operational support including:
Talent:

• Hiring team: Backing a world-class team is central to F-Prime's approach. We helped to recruit cancer industry veteran Emanuele Ostuni from Novartis to be CEO. We value Emanuele's background in managing complex deployments of CAR-T cell therapies and his strong drive to develop new drugs for cancer patients. In parallel, F-Prime helped to onboard several key early hires, spanning clinical development operations, productization of the Pb-212 manufacturing technology, and BD and portfolio strategy.
• SAB: F-Prime assembled the company's world-class scientific advisory board. The team helped to organize an inaugural SAB meeting and a radiopharmaceuticals workshop in 2022, bringing together key opinion leaders to help define ARTBIO's drug discovery pipeline build strategy.
Research & Development:

• Pb-212 Manufacturing: F-Prime helped to establish early manufacturing capability that was essential for initiating ARTBIO's first clinical trial in Norway in early 2023.
• Target prioritization: The SAB and workshop meetings evolved into a collaborative target prioritization working group led by F-Prime, ARTBIO team members, and the SAB and leading to the initiation of several drug discovery campaigns in the pipeline.
Distribution:

• Strategy: F-Prime provided active early support to build a production and distribution ecosystem, with embedded redundancy and flexibility. We forged strategic partnerships to create a network of manufacturing sites, as opposed to a centralized facility with a risk of single-point failure. F-Prime identified multiple sources of radioisotope raw materials to ensure a plentiful Pb-212 supply.
We were excited to announce the launch of ARTBIO on 21 June 2023 with a $23 million seed financing alongside our co-investor Omega Funds.
>> Read the press release for more information on the financing.
F-Prime has been an exceptional partner on this journey, with a sleeves-rolled-up approach to company building which has significantly enabled ARTBIO's trajectory.

— Emanuele Ostuni, CEO of ARTBIO