Throughout the late 2010s and early 2020s, the autonomous vehicle industry captured the imagination of the startup community and the public. However, the category's meteoric rise preceded an even more meteoric fall over the last 18 to 24 months. From 2018 to 2021, investments in the AV sector across the U.S. and Europe increased by nearly 2.5x, eventually peaking at close to $10 billion in 2021. Then, in 2022, investments fell to $4 billion, with 2023 likely to see further precipitous declines.
Meanwhile, the broader robotics ecosystem has continued to flourish, with companies focused on mostly industrial "vertical" use cases now commanding the bulk of investment dollars. In 2022, these companies attracted $7 billion in investments, defying the broader slowdown in VC investment by growing 15% over the previous year.
We recently analyzed the trends shaping the industry in our State of Robotics report, and identified five lessons that the next generation of robotics founders can take from the successes and failures of the AV industry.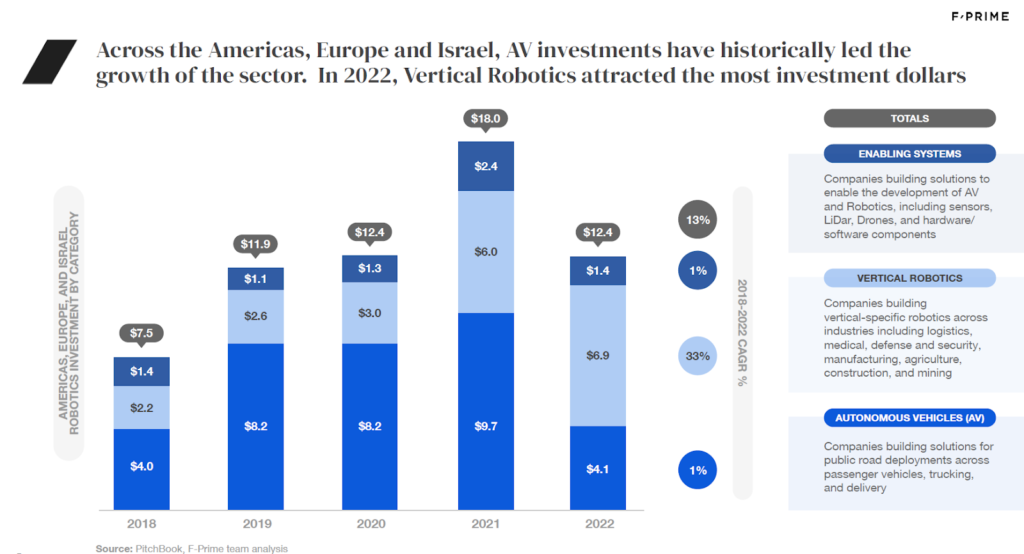 VC excitement for hardware businesses is higher than ever
In the U.S. and Europe, more than $60 billion have been invested in robotics and AV alone over five years, with the AV sector leading the way. AI is making hardware much smarter, which is enabling companies to generate the kind of high-margin recurring revenues typically associated with software businesses.
AI also creates opportunities to disrupt traditional industries with massive addressable markets. For example, across the logistics ecosystem, AV companies such as Aurora are disrupting the trucking industry, while companies like Locus and RightHand Robotics (an F-Prime portfolio company) are transforming how fulfillment operations are done.
For founders, this surge in interest means there are more robotics investors than ever, ranging from newcomers in the category to those with an extensive track record in the space. Even top-tier investors such as Sequoia and Andreessen Horowitz are starting to make investments in the category, an encouraging bellwether for overall VC interest in robotics.
Nevertheless, hardware-oriented investments are not the right fit for all investors, and it's best to seek out those who have made a commitment to robotics and understand what it takes to be successful.
You must eventually build a real business
Much of the early effort in AV focused on technology development, and success was defined by performance of demos and pilots. However, pilots are not the same as commercial success. As both acquirers and investors realized the challenges of creating self-sustaining AV businesses, capital started to dry up and many companies shut down or were forced to scale back their strategy.
Today's robotics founders must focus on real commercial proof points at every phase of their journey. Investors want to see production deployments that deliver measurable ROI (return on investment). Pilot customers who are "excited by the technology" are very different from customers who are motivated enough to manage the operational changes required to adopt it and demonstrate high utilization.
At the same time, founders must demonstrate attractive unit economics associated with their offering — for example, more than 70% gross margin after subtracting BOM (bill of materials) and support costs from lifetime revenues.
Use case selection matters
Early efforts in AV targeted the largest, most challenging problem: generalized autonomy on passenger roads. While the TAM (total addressable market) was massive and the use case seemed like the obvious one to target, technology challenges and uncertain timelines ultimately led many players to pivot toward more tractable use cases, such as trucking and delivery. Lots of capital was burned in that transition, and as investor interest waned, many companies did not survive.
Founders must identify use cases that have real value and that can be realistically automated without massive capital investment. Many companies are now pursuing use cases in constrained operating environments with greater fault tolerance, and often with a human-in-the-loop element, which creates more technical feasibility. Identifying such use cases where the TAM is still significant is the sweet spot for a VC-backed robotics business, often requiring founders to have a deep understanding of the target industry.
Acquisition and exit activity drives a virtuous cycle of investments
GM's acquisition of Cruise for $500 million in 2016 sparked the AV race. The deal made the startup community realize AV's disruptive potential in the eyes of incumbents, and how much capital they were ready to invest in the acquisition of technology. The ensuing years saw annual AV investments take off, the creation of 10 AV unicorns, and large IPOs or acquisitions for companies such as Aurora, Zoox, and Uber ATG.
The lesson for startups is that large incumbents can propel investment momentum and help overcome investor reluctance around what may be a still-unproven use case. Investors will look to incumbents for validation of the problem statement, and many incumbents are starting to actively engage startups for exactly this purpose, like John Deere's Startup Collaborator and Suffolk Technologies' BOOST. If your startup is able to drive real customer value and disrupt legacy business models, incumbents will eventually come calling, even if they are not yet active acquirers. Investment dollars will follow, more incumbents will jump in, and startup formation will accelerate.
Only the strong survive
AV businesses were very capital intensive, and as investments ebbed, only the strongest players were able to continue raising capital. Even companies such as Argo AI, with more than $1 billion of capital, were ultimately shut down, whereas Aurora was able to raise an additional $820 million as recently as mid-2023.
Founders must focus on being the winner in your chosen segment or use case. There will inevitably be competition for any good idea, and those startups will often find willing early-stage investors to support them. However, being an "also-ran" is ultimately a losing strategy in robotics. Later stage dollars will flow disproportionately to the winner, customers will favor the most established providers, and acquirers will focus their efforts on the market leaders.
Today's robotics founders have a number of factors on their side: technological acceleration, labor shortages, stagnant productivity gains, and a cadre of investors who are increasingly interested in the category. However, founders must learn the hard-fought lessons of the last five years to find success in this unique category.
Originally published in TechCrunch — read the full story here.
Founders must learn the hard-fought lessons of the last five years to find success in this unique category.